For those that remember the iconic look that Linda Hamilton rocked as Sarah Connor in Terminator 2, you will be thrilled to know that the creator, Matsuda Eyewear, has reintroduced this magnificent piece of art in a limited edition celebration.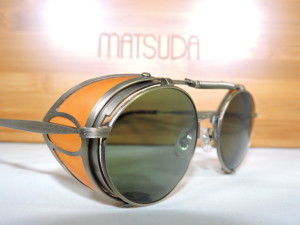 To celebrate the 25th anniversary of the launch of Mitsuhiro Matsuda's eyewear collection, they are reintroducing one the collection's most coveted designs. This style embodies all of the design elements and unique details that catapulted Matsuda into the spotlight 25 years ago. As part of the Matsuda Heritage Collection, the 2809H has been updated with the option to wear the frame with either removable sideshields, or a removable spring brow bar. The polarized lenses are crafted from the highest quality mineral glass and are treated to provide full UV protection. A multilayer anti-reflective coating is applied to the back of each lens reducing unwated and distracting reflections.
With each 2809H taking over 122 hours of workmanship to create, they have released just 250 pieces of each color.
At Fine Eyewear, we are proud to have one of these rare and beautiful pieces in our office. Stop on in and pick up this collectors must have of eyewear history!
Fine Eyewear and Eyecare offers the Matsuda eyewear collection in addition to many other fine collections of eyewear. Our eye doctors also provide advanced vision care to the families of Austin, Cedar Park, Leander, Georgetown, Round Rock and surrounding communities.  Visit our main website for a preview of Matsuda and read more about our eye wear collections : Fine Eyewear Collection